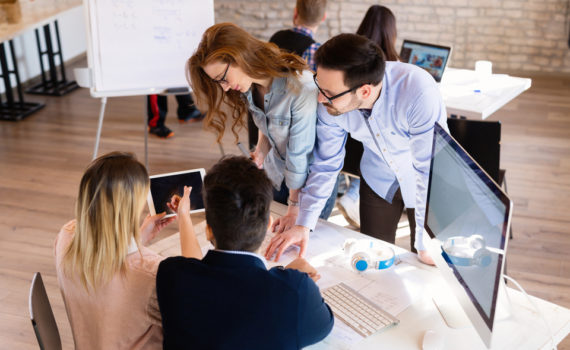 Leadership is less pragmatic, less technical, and less authoritarian than it ever has been. Are you demonstrating modern artful leadership?
We all know that leadership is not about a position. At least, not specifically about a position. Leadership is for everyone, with or without direct reports.
Many workplaces struggle with navigating the workforce generations, they also struggle with culture, on-boarding, and employee retention. Much of this is about organization leadership and effective communication.
Less Authority, More Art
Not so long-ago leadership for many meant power and authority. It was the significance of the formal position within the organization that designated the chain-of-command.
The chain of command is still valid in many organization cultures, yet its purpose or utilization is often softer with fuzzy edges, dotted lines, and open doors.
It is not your great grandfathers, or your great, great grandfather's industrial revolution anymore. The authoritarian approach is seldom effective.
There are pockets of businesses and small communities that still have traces of this. To find this you usually have to get deep into the rural areas, miles from any metropolitan statistical area. There, the workplace choices are few and the leadership style may not be modern.
For everyone else, leadership is as much artful as it is pragmatic.
What is your style?
Modern Artful Leadership
Great leaders inspire a call-to-action that keeps people motivated and engaged.
They co-create a culture of community where employees feel like they are part of something, they are building it, growing it, and giving it life. The result is that they have purpose in their work and are proud of the products and services they provide.
Authority matters less, respect across all job functions, all generations, and all workforce classes (considered protected or not) matter more.
Modern artful leadership is not pointed to on paper. It is not designated by a job description, the organization chart, or tenure.
Yes, all of those things matter, and in deadlock decisions or strategic moves, they are the tie-breaker. They are not the everyday practice of how work gets accomplished.
What about you, are you a good role model?
-DEG
Dennis E. Gilbert is a business consultant, speaker (CSPTM), and culture expert. He is a five-time author and the founder of Appreciative Strategies, LLC. His business focuses on positive human performance improvement solutions through Appreciative Strategies®. Reach him through his website at Dennis-Gilbert.com or by calling +1 646.546.5553.