Speaker
Dennis Gilbert
Speaking at your event…
Your next meeting, conference, or convention – bring a speaker who engages your audience, who inspires them, and who motivates them to be more, do more, and simply achieve more. Dennis Gilbert will have your audience interested in a positive approach to achieving more for themselves, taking higher steps on the ladder of their career, and discovering a reinvigorated commitment to your organization and its mission.
Popular Programs…
Customer Service – Sales – Culture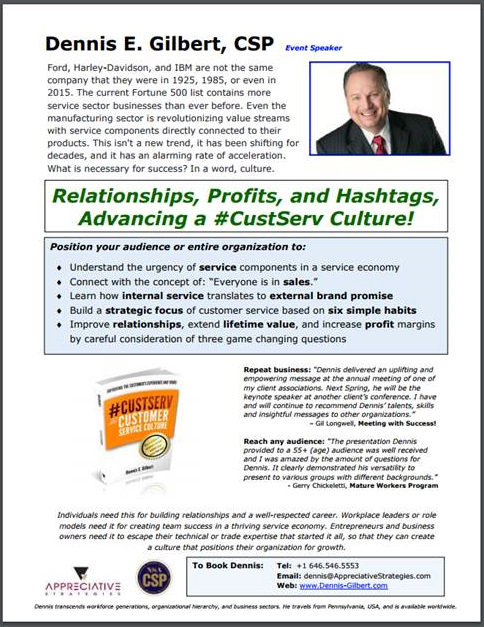 Navigating Generations
Leadership and Change
Why hire Dennis…
Expertise. His career has spanned more than 30 years. Most of which were in a leadership capacity. He has led teams during both good times and bad. He knows how to make the most of either situation.
Current. He is very active with his client base and is constantly writing, developing, and learning from other experts in related fields. His facilitative style always invokes more learning while creating new breakthroughs.
Relevant. He is a small business expert who understands sales, marketing, business operations, and the bottom line. He helps other individuals and entire organizations become believers and achievers while creating pathways for their own success.
Easy. Easy to work with is important. Dennis can accommodate nearly any circumstance or situation. He understands customer relationships and the customer experience. You and your audience are the customer.
Interactive. Buy-in is created by shared experiences. When groups interact together, they learn together. This is also how they buy-in for positive change. Every presentation is delivered with an appropriate mix of interaction and engagement. The result is an outstanding return-on-investment for you.
Real World. Theories, models, and published works are important but just as important are real world experiences. Long before his days as a consultant and professional speaker he worked with his sleeves rolled up, running business units, making mistakes (and learning from them), and creating success.
Authentic. When you apply your background, life's experiences, and expertise to your presentations there isn't any room for mimicking someone else's work. Dennis is authentic, he is real world. He will laugh at himself. He will make you laugh. Most important of all, he will deliver a self-empowering message to your team.
Right message…
Dennis reaches into the hearts of the audience through real world experiences and a wide collection of inspirational messages everyone relates to because they are grounded in personal experience. His motivating messages are always tailored to meet the needs of your audience or event. Messages of inspiration, persistence, and a never give up attitude have shaped his career and inspired others for a real world call to action.
A career spanning more than 30 years, as a high school graduate Dennis never planned for a day in a college classroom, to lead a multi-million dollar for-profit business, or become a platform inspiration making soul to soul connections with his audiences. Since high school Dennis obtained three college degrees the hard way, on his own while also earning a living, raising a son, being a business executive, an academic, and platform speaker. Every keynote is a journey, a journey designed to meet the specific needs of your meeting, conference, or convention.
Start your next meeting off with a positive approach to success, building relationships, or exemplifying team efforts. Dennis will build a foundation for your entire conference or convention, or he can close your meeting with a spirited message that springs people into action.
Make your next event a big success, hire Dennis to open it or close it, making you and your organization look great in the process!
---
Certified Speaking Professional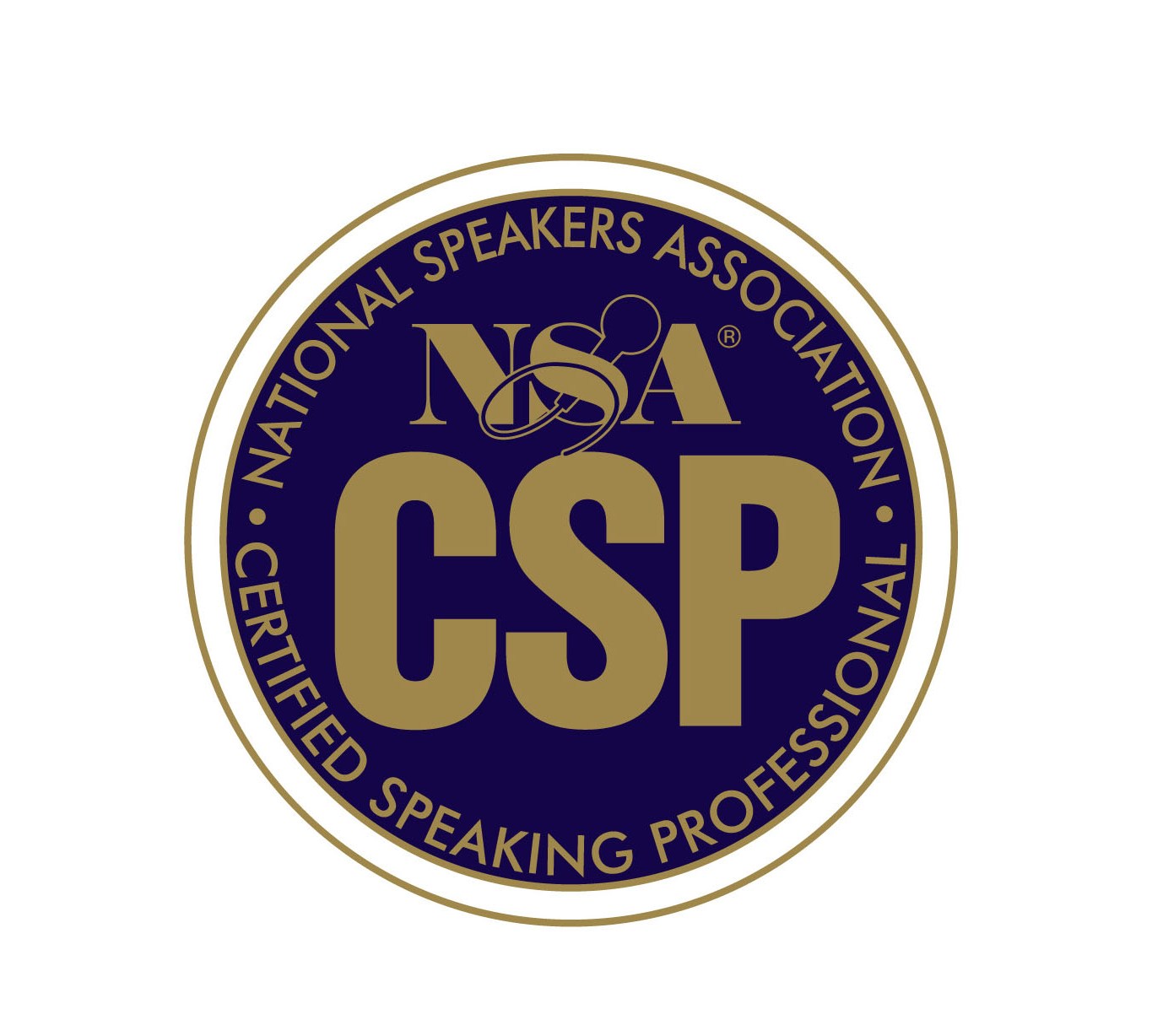 Dennis is a CSP™ (Certified Speaking Professional) the highest certification bestowed upon professional speakers in the National Speakers Association and Global Speakers Federation.
---
A customized speech…
Dennis often customizes or tailors speeches to meet specific client needs. As a leadership, generations, and change expert Dennis can speak on many topics related to employees, organizational transformation, and workforce development.
Contact Dennis? Please call +1 (646) 546-5553 use the contact page or this form: