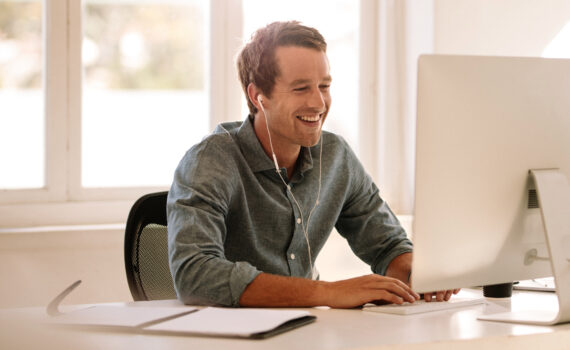 "What's new?" is a common way to strike up a conversation. A common answer, "Not much." Yet unrealized change is happening all around you.
Thirty years ago, on or around this same calendar date, I got up, went through a brief morning routine of hygiene and breakfast, drove to my office, grabbed some coffee, and started writing code.
At that time, there wasn't the internet as we know it today. We didn't have cellular phones, at least not enough to speak about. And if I wanted to read something it probably started with a newspaper, magazine, or book. A real-to-life book, not a digital version.
This morning I got up, walked and fed the dog, popped a K-Cup in the Keurig, grabbed a cookie, and reported to my home office.
My home office is much more like a studio than an office of thirty years ago. Three high-definition cameras surround my workspace, complete with professional-grade shotgun microphones, three lights on tripods, and two-monitors plus one flat-screen TV all surrounding my workspace as I type.
Today I'll visit one of my university partners while wearing a protective mask, sign some certificates of completion for the participants of an online leadership development training program, and return to my office by Noon.
My afternoon will be spent developing more programs, catching up on some accounting work, and preparing for the delivery of five programs across four days next week.
What's new?
Not much.
Unrealized Change
I can't imagine life without change.
People feel strained by what they refer to as information overload.
Many people who are under thirty years of age, the place where this story started, don't plan to read anything other than the gibberish coming across their 3-inch by 4-inch cellular phone screen.
Much of the workforce won't go to what might be referred to as a traditional workplace. A human virus plus technology collided and changed things nearly overnight.
More and more people are paid to interpret and dissect information and make decisions or take action based on what they've discovered from a digital device than ever before.
Cable television and digital streaming services pour content into homes and workplaces at speeds barely imagined just a few short years ago.
What is known is online shopping is a booming business while traditional retail largely struggles in decline. Thirty years ago, it was called a mail-order company, today its a staple of the economy.
Things are still changing.
Opportunity in Change
What is most useful may not be realizing the number of people you can touch in a single day. The distance that your message, your voice, or image can travel as you work with people in real-time across town, or across the country.
What may be most useful is to recognize the value of change and to determine how you will use it to improve the scope of your life and your work.
Arguably, the pace may have been slower thirty years ago.
So was the opportunity to make a difference.
-DEG
Dennis E. Gilbert is a business consultant, speaker (CSPTM), and corporate trainer. He is a five-time author and the founder of Appreciative Strategies, LLC. His business focuses on positive human performance improvement solutions through Appreciative Strategies®. Reach him through his website at Dennis-Gilbert.com or by calling +1 646.546.5553.