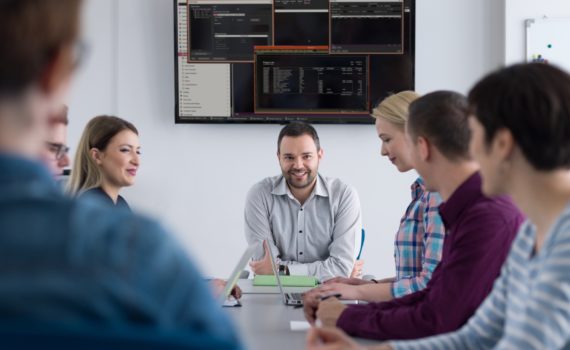 Milestones and goals are always important. Many people stress how critical metrics and measurements are for the performance management process. How are you managing customer service? Do you have vague customer service guidelines?
When you attend a meeting, get involved in a committee, or volunteer to help steer the direction of a project you may insist on some goals. The funny thing about most of these endeavors is that they are built on one underlying, often-subconscious premise, keeping everything vague.
Customer Service Culture
Your organizational culture is developed from many things, including: brand, symbols, language, methods, and processes. Most of all, it is carried out by people, and is often intended to be role modeled from the behaviors of organizational leaders.
Is customer service part of your culture? Customer service shouldn't be viewed as a department, in today's economy customer service is about culture. Most leaders will quickly grab on to this idea, but as role models, they may leave some gaps.
Not Specific Means Vague
Positive language is often spread throughout the organization by role models, but it is often vague.
Here are a few examples:
Improve satisfaction.
Increase lifetime value.
Enhance the customer experience.
Anything that is vague is hard to measure.
What about the committee or project management team, how do they contribute?
Vague Customer Service
The committee will most likely leave some gaps when the leadership is vague about guidelines. Vague customer service guidelines leaves wiggle room. Wiggle room means the measurement will be subjective.
It is hard to do anything wrong in an environment with vague guidelines or goals. They're vague, so just wiggle, but that also makes it hard to move forward.
Unfortunately, being vague is often the self-deceptive and unrealized output from the meeting, committee, or project team. What is worse, often the language is handed down and passed around. It is role modeled.
In most cases, it is not intentional. Everyone has good intentions, but vague allows everyone the opportunity to wiggle.
Wiggling isn't winning. Vague customer service guidelines aren't helping anyone, especially the customer.
– DEG
Dennis E. Gilbert is a business consultant, speaker (CSPTM), and corporate trainer that specializes in helping businesses and individuals accelerate their leadership, their team, and their success. He is a five-time author and some of his work includes, #CustServ The Customer Service Culture, and Forgotten Respect, Navigating A Multigenerational Workforce. Reach him through his website at Dennis-Gilbert.com or by calling +1 646.546.5553.