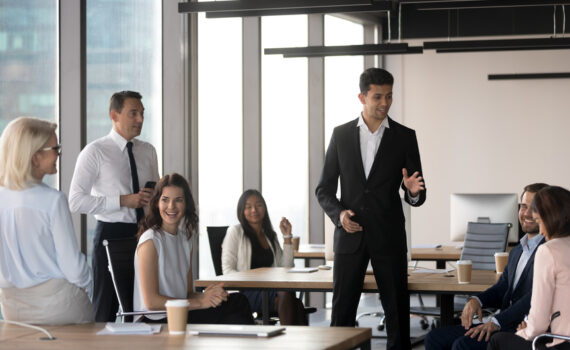 Do you drop the bad news and run? What about showing the graph in a PowerPoint and creating fear, confusion, or anxiety? Are communication bombs part of your strategy?
It may not always be intentional. In fact, it may be an attempt to increase motivation. The question is, does it work?
What Kind of Motivation?
Make no mistake that fear motivates many people to action. There are a lot of employees going to jobs every day because they fear for the welfare of their family.
In other words, they need a paycheck.
Yet many people wish for something more than just that check.
Certainly, the check matters and means a lot. However, contributing to something, creating something, serving someone, or working as a team has many benefits beyond the paycheck.
In the workplace, motivation through fear is a short-run game. Long term it tends to divide teams. Often it creates an "us versus them" situation. Organizational leaders are on one side, and front-line employees are on the other.
Communication bombs may confuse, frustrate, or simply be a bad tactic for attempting to achieve a result.
Get this finished before the end of the day.
If you disagree, there is the door.
This chart shows last quarter results, another quarter like this and we'll all be looking for jobs.
Communication bombs. Drop them and run.
Is this effective?
Deploying Communication Bombs
There may be truth in the intent. It may even spark action and accomplish something.
Is it what you desire?
You have a reputation. Your department and team have a reputation. The business or organization you work for also has a reputation.
Reputations are shared. They're publicized in conversations everyday.
Drop and run is a good way to hide from facing the real issues at hand.
The executive sometimes only wants results. The employee often wants respect and to be part of something more than just their paycheck.
Leadership and culture live or die through communication.
Long-term everyone has choice.
Short-run games end sooner than you think.
-DEG
Dennis E. Gilbert is a business consultant, speaker (CSPTM), and culture expert. He is a five-time author and the founder of Appreciative Strategies, LLC. His business focuses on positive human performance improvement solutions through Appreciative Strategies®. Reach him through his website at Dennis-Gilbert.com or by calling +1 646.546.5553.