When you need that catch all phrase to stop the onslaught of additional work you often say, "I'm too busy."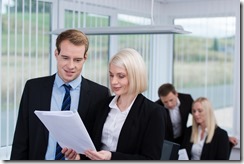 Too busy can become the main excuse, it seems to work because look at everything I have to do, look at the piles on my desk, and look, over there is the work I completely yesterday. If you want me to work on all of this other stuff that is urgent you can't possibly dump more work on me.
Too busy is also the excuse for not interrupting, no phone calls please, or a signal that the work immediately in front of you is the only work that matters. Too busy is sometimes at its worst in peer-to-peer communication where it might mean, I'm going to watch you sink as I swim. In nearly all environments too busy replaces the to-do list, the project database, and the help ticket.
Too busy might be better expressed with some questions.
What is the priority?
How soon do you need this?
Does this lead to more revenue, profit, or our goal?
I've often wondered what happens when you're too busy and all of this work goes to the next person on staff, is outsourced, or your customers find another place or person who can serve them better? The only thing worse than your telephone ringing, your email count growing, or getting too many interruptions is to have none at all.
Can you afford to be too busy?
– DEG
Dennis E. Gilbert is a business consultant, speaker (CSPTM), and coach that specializes in helping businesses and individuals accelerate their leadership, their team, and their success. He is the author of the newly released book, Forgotten Respect, Navigating A Multigenerational Workforce. Reach him through his website at DennisEGilbert.com or by calling +1 646.546.5553.