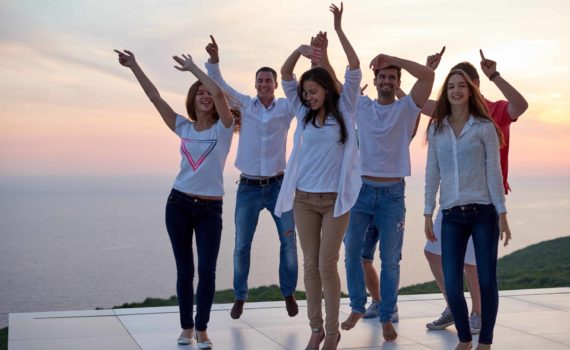 Have you ever asked someone, "Who is the customer?" Your best answer may be, "Everyone!" Is the customer service dance appropriate for your business?
It seems ironic or a good example of karma. If you forget about your customers, they'll likely forget about you.
Dancing with your customers is not about fast moves, quick diversions, or peddling snake oil.
Just like with real dancing you won't go far with two left feet. You'll have to get out there and make something happen. Even if you feel the rhythm but your body just moves weirdly.
Customer Service Dance
The best customer service of all might happen when you allow dancing. The customer service dance might be the ultimate form of feedback. The best of the best in the customer experience. It all happens because you're doing it together.
Businesses that get this right have customer engagement like few others. They're inviting customers to participate. Customers try product, test examples, work with prototypes, debug software, and co-create everything that happens. In the end, the customer wins.
This model of customer service doesn't promise perfect, it promises an on-going effort to improve. Information is free flowing and engagement means loyalty. This valued customer couldn't possibly do better elsewhere because they're building it along with you.
When more people join in the experience it doesn't get worse, it gets even better. No one needs a special invitation and it catches on. It's a viral experience. It's a club, a membership, or an entire culture.
Forgotten Customers
Most businesses would tell you that they are doing this, but few actually do. It's not so much that they lack effort or desire. It's mostly because they've forgotten who the customer is.
They're either dancing alone or standing on the side watching others have all the fun.
Best Dancers
Who are the best dancers?
Harley Davidson, Dollar Shave Club, and Amazon, your secret is out.
Thanks for the dance.
– DEG
Dennis E. Gilbert is a business consultant, speaker (CSPTM), and corporate trainer that specializes in helping businesses and individuals accelerate their leadership, their team, and their success. He is a four-time author and some of his work includes, Forgotten Respect, Navigating A Multigenerational Workforce and Pivot and Accelerate, The Next Move Is Yours! Reach him through his website at Dennis-Gilbert.com or by calling +1 646.546.5553.