Make no mistake about it. Meetings can be both valuable and important. The question many people ask about meeting management is, "How long should the meeting last?"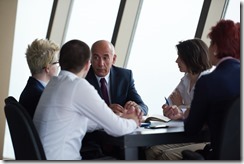 Just to be clear, there are many different types of meetings. There are status meetings and update meetings. There are the meetings known as staff meetings, manager meetings, sales meetings, and roll out meetings. Let's not forget about the idea of brainstorming meetings, project meetings, and the meeting about the meeting.
Communication and Attention Span
Meetings are typically about communication. In fact, I can't think of a meeting scenario that isn't involving the need for effective communication. So we might ask ourselves, "How long can we hold the participants attention?"
Interest in the topic will have a lot to do with the attention span. People binge watch a television series on NetFlix for hours and hours, they are captivated by the unfolding plot, episode after episode.
Certainly this might be quite different from a workplace meeting even though you might argue that there is often drama in both.
Conferences, training sessions, and other forms of educational endeavors might continue on for hours, some of this goes back to participant attention and desired outcomes.
Brain Power
Should we consider brain power or cognitive factors?  I think this is where the real answer to the question exists. If meeting participants are expected to brainstorm, make good decisions, or come up with solutions for problems then it only makes sense that you want the best from them.
Have you read the book, Willpower? If the concept of the psychology behind willpower interests you at all, this is a great read. I especially enjoyed the chapter, Decision Fatigue.
My synopsis of this chapter is that there are several key factors associated with the ability to make good choices. We might consider things like nutrition, stress, and the amount of choices involved.
People often associate physical activity with the need for fuel (food), but mental activity requires a great deal of energy (fuel) too. This might be justification for having food or snacks at your meeting!
Meeting Management
So what is the answer?  How long should meetings last?
The obvious answer might be that it depends. Another answer might be, as long as productivity for the desired outcome continues. Yet another answer might be until the desire outcome is achieved. If the meeting begins to become unproductive and the outcome hasn't been achieved you might need to reconvene at another time.
Are you looking for the answer to the weekly or monthly sales meeting, staff meeting, or other routine information sharing and gathering sessions?
Most experts would probably advise creating and committing to an agenda of less than 60 minutes.
Do you have an opinion about meeting management and length? What is your experience?
– DEG
Dennis E. Gilbert is a business consultant, speaker (CSPTM), and corporate trainer that specializes in helping businesses and individuals accelerate their leadership, their team, and their success. He is a four-time author and some of his work includes, Forgotten Respect, Navigating A Multigenerational Workforce and Pivot and Accelerate, The Next Move Is Yours! Reach him through his website at Dennis-Gilbert.com or by calling +1 646.546.5553.