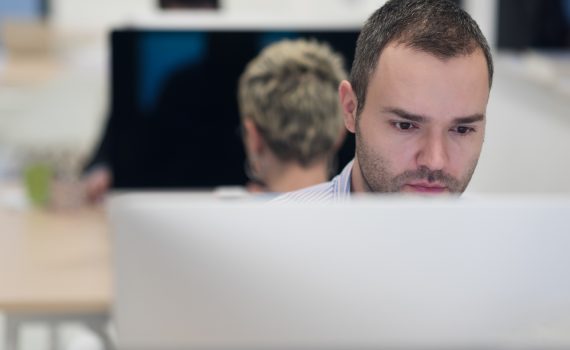 In the 1980's cube farms were popular. Like several dozen eggs, all packed neatly into rows and columns people performed their job duties. Imagine you're in that organization today, perhaps you still are, how will you address your cubicle neighbor?
Cubicle Neighbor
Once wildly popular, many of them have been reconfigured for more open environments. There are now pods in the corners for chatting or business conversations, floor to ceiling glass conference rooms, and pub type tables near vending areas.
If you needed your neighbor across the wall you often stood and captured their attention. How did you address your neighbor? Were you kind and courteous or just more of a shout out with a hurried expectation? If you disapproved of something, what did you do?
Emotional Self-Control
Construction zones are popular on major highways during the summer months. Road rage often develops. Someone scooting past the line of traffic for a better position near the front is annoying. If this is you, don't look to your right because you may not appreciate the sign language coming from the motorists you are passing.
It seems fine when you don't know the person. Somebody too close behind you, riding your butt, and some sign language may occur. Near misses at intersections honking horns and more language. Lips moving, you can often read them without hearing the words.
It may seem okay if it is not your family, friends, cubicle neighbor, or boss.
Small Community
I recall a friend who was running late for a meeting with a district manager at a regional office. He was chatting with me on his cell phone while driving. He mentioned a car driving very close behind him.
Eventually the car zoomed past him. He decided to use some sign language indicating his disapproval. A few minutes later as he entered the office parking lot the district manager which he had never met was stepping out of his rental car. It was the person who moments before passed him.
Yes, the sign language was received.
Just because you can't see what is in the cubicle next to you doesn't mean you won't know them. The World, your community, and your cubicle walls may be smaller than you think.
-DEG
Dennis E. Gilbert is a business consultant, speaker (CSPTM), and culture expert. He is a five-time author and the founder of Appreciative Strategies, LLC. His business focuses on positive human performance improvement solutions through Appreciative Strategies®. Reach him through his website at Dennis-Gilbert.com or by calling +1 646.546.5553.